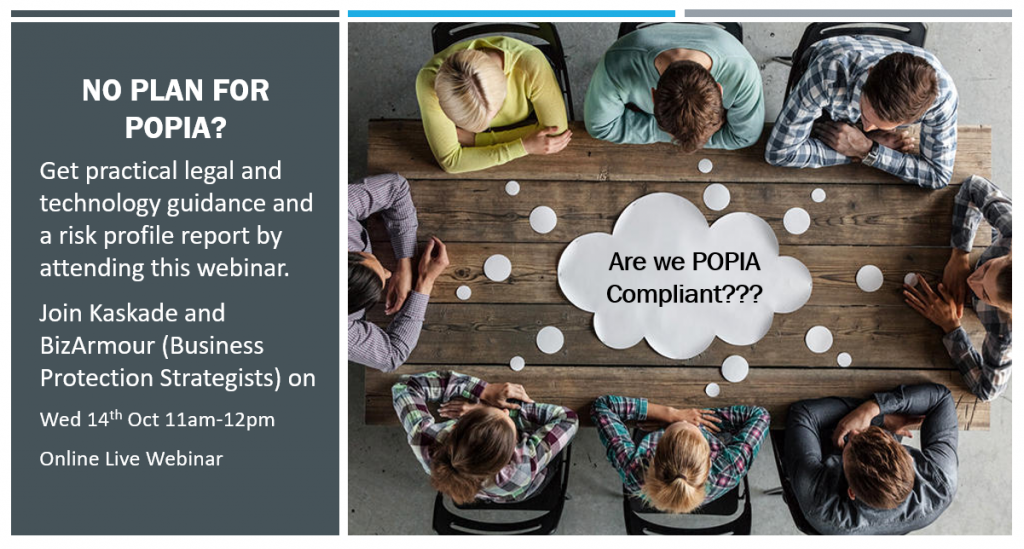 No Plan for POPIA?
POPIA seems like something that was on the horizon, but never quite materialised as the implementation dates kept moving and with it, the proverbial goalpost. The time for action is now, the final date of compliance has been announced and your organisation is at risk if it is not compliant.
In this webinar we will discuss the impact of POPI on your organisation, your staff and your clients. We are taking an approach outside of the ordinary, not only looking at the legal implications, but also how technology may be impacted by this new legislation.
Join Russell Warne (Kaskade CTO) and Ronel de Jager (BizArmour CEO), for this informative live webinar covering the Protection of Personal Information Act (POPI Act) that commenced 1st July 2020, and how it relates to cloud technology.
The webinar will cover:
Demystifying POPIA
Who needs to worry about compliance, and who doesn't.
Organisational and individual risk.
The 5 easy steps to compliance
The financial impact.
A 10-question assessment to help you understand your overall risk profile as well as specific high-risk areas in your organisation.
How technology can help you (in plain language).
Invaluable tips to help you now as well as understand your next steps..
All attendees will receive access to a dashboard indicating their high-level posture with guidance on what steps to take to remediate the top 3 specific risks.
Register today as space is limited.